Estelle Sidos Heurassein as Yuri Lowell
(aka "A regular Utena with a slight curtsy")

I love the shape of her shield and if I had any say she would always use a saber. Perfect for a knight, isn't she?

I'm not a big fan of Fujishima's swirls and patterns but I really warmed up to them on Yuri's outfit. Working with Estelle's design actually reminded me a lot of Tear's. It must be why Tear is one of her alternate outfits.

I love lowered gazes and I'm obsessed with eyelashes right now.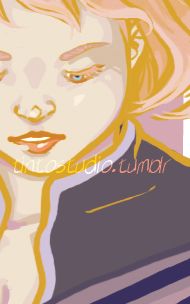 Progress:
[1], [2], [3], [4]
[Mint], [Rutee], [Farah], [Reala], [Meredy]
[Colette], [Claire], [Shirley], [Tear], [Marta]
[Iria], [Estelle], [Bonus!], [Bonus2!]