Farah Oersted as Rid Hershel
(aka "All the better to kick you in…")

…Because seriously, Farah's big dress has to be cumbersome for a martial artist.

This is a part of the Heroines as heroes set I'm working on from the Tales series. It's 3/5 of the first group of characters I'm releasing. I plan to do 15 heroine girls and 3 heroes to start. c: You can read a little more about it in my previous posts.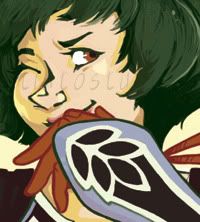 Progress:
[1], [2], [3]
[Mint], [Rutee], [Farah], [Reala], [Meredy], [Colette], [Bonus!]