Reala as Kyle Dunamis
(aka "Any more belts and this will be KHs…")

… Ugh. Darnit Kyle! I blame that one on you! I still like a lot of the little details in this one (ie: I'll pretend like I don't think I'm clever by tilting Kyle's armor), even if few people actually know Reala.

This is a part of the Heroines as heroes set I'm working on from the Tales series. It's 3/5 of the first group of characters I'm releasing. I plan to do 15 heroine girls and 3 heroes to start. c: You can read a little more about it in my previous posts.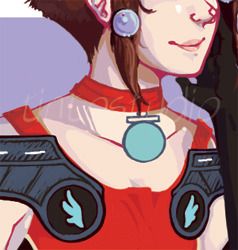 Progress:
[1], [2], [3]
[Mint], [Rutee], [Farah], [Reala], [Meredy], [Colette], [Bonus!]